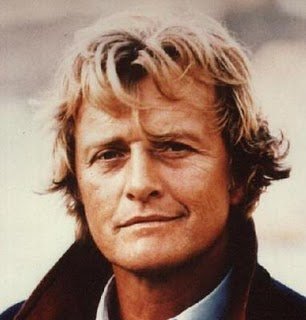 Happy Birthday Rutger Hauer.
The Dutch-born actor is 74 today (born 1944) and has had a very prolific career appearing in movies since 1968. He mostly known for his hard-edged performances as a villain in movies such as Blade Runner, Surviving the Game and The Hitcher.
He's appeared in big Hollywood blockbusters such as Batman Begins and Sin City as well as straight to video films and tv movies.
I've dug up 12 movies that are available on Youtube right now that feature Rutger Hauer. Check them out before they get deleted.
12. Arctic Blue
Released: 1993
Role: Ben Corbett (villain).
In this 1993 action adventure set in the cold and snowy terrain of Alaska, Rutger Hauer plays a homicidal trapper who along with his cohorts murder a man in the forest.
The sheriff attempts to bring the men to justice enlisting two environmentalists for help.
The bad guys led by Ben Corbett don't plan on going to court and you can only guess what happens. They get even more murderous.
11. Barbarossa
Released: 2009
Role: Federico Barbarossa
This film is set in medieval times in Italy. Although Rutger Hauer plays the title character, his screen time isn't that much to justify naming the movie Barbarossa or even giving him top billing.
In the US, this movie is called Sword of War.
Hauer plays an emperor who will stop at nothing to build and expand his empire.
10. Bleeders
Released: 1997
Role: Dr. Marlowe
Based on a novel by H.P. Lovecraft called "The Lurking Fear", this horror movie released in 1997 is also known as Haemoglobin.
It's a story about a man with a rare blood disease who goes to an island where mutants must feed on human blood to survive. No, Hauer isn't one of the bleeders. He plays a doctor in this one.
9. Blind Fury
Released: 1989
Role: Nick Parker
Hauer plays a blind Vietnam veteran who is skilled with a sword in this Zatoichi inspired action flick from the 80s.
He helps a young boy find his father who was kidnapped by thugs and battles ninja movie actor Sho Kosugi after defeating loads of his attackers.
If you like ninja flicks and 80s action movies then you won't want to miss this one.
8. The Blood of Heroes
Released: 1989
Role: Sallow
Also known as The Salute to the Jugger, this 1989 film takes place in a post-apocalyptic setting and stars Hauer as Sallow.
Sallow is the leader of a team that plays a brutal sport known in the film as The Game. The players are known as Juggers.
The real life sport of Jugger started with this movie about a fictional sport.
Released: 1987
Role: Lieutenant Aleksandr 'Sasha' Pechersky
Hauer plays the leader of an uprising in the Nazi death camp at Sobibor.
The movie is based on true events revolving around the uprising and mass escape of Jews at the death camp during World War II. Hauer won a Golden Globe for his performance in this British-made tv film that aired on CBS in 1987.
Released: 1986
Role: John Ryder – the hitcher
This is one of the better known movies of Rutger Hauer who stars alongside C. Thomas Howell as the psychotic hitchhiker John Ryder.
After seeing this movie you won't want to pick up strangers again. Ever.
The Hitcher was remade in 2007 with Sean Bean as Hauer's character, John Ryder.
Released: 2011
Role: Hobo
This movie is based on a fake trailer in the film Grindhouse.
Hauer plays a hobo, himself a victim of crime after being left for dead, who is fed up of the crime in his town and becomes a vigilante. He blows away everyone from corrupt cops to pedophiles.
This is one of the more recent movies with Hauer and isn't guaranteed to stay very long on Youtube. Watch soon.
4. Moving McAllister
Released: 2007
Role: Maxwell McAllister
Hauer plays the title character in this movie in a supporting role.
Most of this romantic comedy centers around Rick Robinson, a guy desperate to score points with his boss, McAllister, who ends up on a cross country road trip doing his boss a favor.
Not a whole lot of Hauer in this movie but you can watch it if you like romantic comedy adventures.
 3. Nighthawks
Released: 1981
Role: Wulfgar (villain)
Nighthawks is Hauer's debut American movie and the oldest on this list.
He plays Wulfgar, an international terrorist who plans to cause chaos in New York City. Stallone's character has to stop him before it's too late.
The movie was supposed to be French Connection III but after Hackman didn't want to do a third movie as Popeye Doyle, the script was reworked into Nighthawks.
2. Past Midnight
Released: 1991
Role: Ben Jordan
Hauer plays Ben Jordan, a man who is locked up for 15 years for stabbing his wife to death.
He gets out and a social worker played by Natasha Richardson believes that he is innocent and starts falling in love with him even after her friends warn her that he is dangerous.
A good little suspense/thriller.
Released: 1992
Role: Harley Stone
This 1992 futuristic action is set in 2008, a time when the effects of global warming has partially submerged the city of London.
Hauer plays a tough homicide detective who is being stalked by a killer who is not so human. He must kill it before it kills him.
Have you seen any of these movies? What's your favorite movie with Rutger Hauer?