(Last updated: July 26, 2017)
It's October. And that means its the spookiest month in the year with Halloween just around the corner.
Where I'm from we don't celebrate Halloween but I've always wanted to take part in the celebrations from what's portrayed in the movies and television. We do have Guy Fawkes and similar celebrations though.
One of the best experiences of Halloween is deciding on a costume or character whether for you or for a group or for your trick 'n' treating kids. To get into another character for one night can be quite a fulfilling experience. Vampires, witches, presidents or your favorite tv characters are all popular ideas that are used year after year.
While you can put together your own outfit, you would probably get a more believable costume by shopping for something ready-made.
But where should you shop for a Halloween costume online? Amazon.com may be a popular shopping site but they are definitely not the best place online to shop for Halloween costumes. They do have some other great Halloween stuff though.
Here's a list of the 10 best places online to shop for a Halloween costume.
1. BuyCostumes.com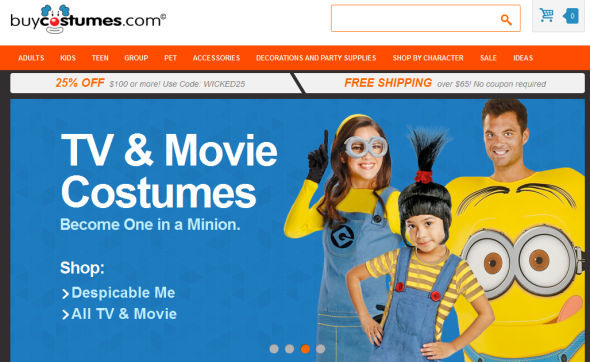 BuyCostumes.com has been around since 1999 and offers a wide range of costumes for not just Halloween but all other events that require costumes such as St. Patrick's Day, Christmas and Easter.
You can shop from a wide range of themes and enjoy free shipping on orders over $65 as well as discounts for joining their mailing list or orders over $100.
Hot in 2016: Suicide Squad Harley Quinn costume
2. HalloweenCostumes.com
With a name like HalloweenCostumes.com, there can be no doubt about what is offered here.
The site has a huge selection of costumes in lots of categories so you can find costumes for every member of the family, group costumes and even costumes for the dog. You can also find some exclusive selections that you won't find on any other site.
My Pick: Just started watching Breaking Bad and I was thrilled to see they had a Walter White costume. I like these TV inspired costumes.
3. SpiritHalloween.com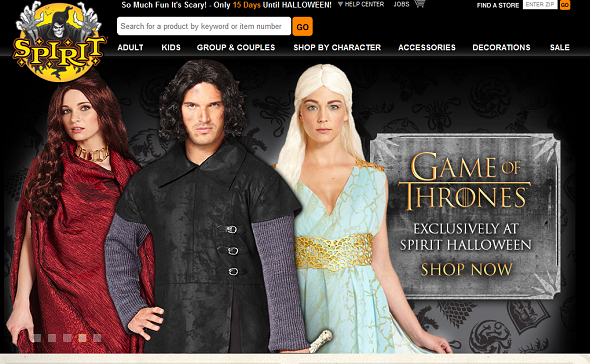 Spirit Halloween has physical locations in 48 states in the United States and has been in business for over 25 years. People know and trust their brand.
The Spirit store features lots of trendy costumes, sexy costumes for women, for men and children as well as masks and accessories. Having a Halloween party? Animatronics and all types of scary decor are available to freak the hell out of your guests.
My Pick: Speaking of trendy, uhm Miley Cyrus and her twerking self looks like such a popular costume judging from it being out of stock when I searched. I liked the cute little Viking Baby costume though.
4. CostumeCraze.com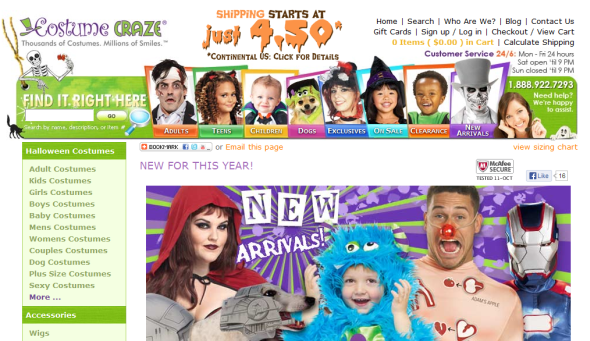 Costume Craze, I'm guessing is for people who are crazy about costumes. Seriously though, I really like this site because they have a great selection which also includes exclusive costumes – stuff that can only be found at CostumeCraze.com.
And they're more than just costumes. You can find props and other Halloween items on the site. Check out their blog to keep up with what's happening at CostumeCraze as well as suggestions for some seriously cool costume selections.
My Pick: Go with your friends all dressed up in The Wizard of Oz costumes – Dorothy, the Tin Man, the Cowardly Lion and the Scarecrow or even the Wicked Witch of the West.
5. CostumeKingdom.com
I've always enjoyed the costume selection at CostumeKingdom.com. This was actually the first Halloween costume site I checked out a couple of years back and they have a lot of great stuff.
One of the reasons I enjoy them is that they always stay on top of current trends so you can find stuff like Angry Birds costumes, Ninja Turtles and even Superman from Man of Steel.
And since most costume sites have the same stock anyway, you may be able to get it for less at Costume Kingdom with the free shipping offer on purchases of over $50.
My Pick: What if Batman was a zombie?
6. TotallyCostumes.com
These guys seem to know a thing or two about partying. So if you're going to look great in a costume at a Halloween party then TotallyCostumes.com has your back.
They have costumes for all ages from newborn to adult and in-between. Even your pets will look great dressed up as their favorite super-hero, Underdog.
TotallyCostumes.com offer same day shipping if you order by 3pm so if you're trying to get a last minute costume, get it early.
My Pick: I really enjoy Clint Eastwood movies so this Clint Eastwood Wandering Gunman costume (The Good, the Bad & the Ugly) looked like something I would definitely try. Nice poncho.
7. CostumeSuperCenter.com
CostumeSuperCenter.com has lots of great selections also in lots of sub-categories for everyone. Shopping for "couple costumes" or "group costumes" is easy as they have pages for these categories.
They also have decorations and props to complete your Halloween party along with accessories and makeup to complete your look. You can enjoy savings and same day shipping from CostumeSuperCenter.com as well.
My Pick: Men's Anatomy Costume (very creepy!)
8. Costumes4Less.com
Costumes4Less.com is another great site that boasts "the largest selection on the planet" and for lower prices than the other sites listed here.
They do indeed have an impressive selection of costumes as well as makeup, accessories, wigs and hats and Halloween decor and props. As for price, you can compare with the other sites and see the difference. There's free shipping on orders over $50 so you can save on costumes for the whole family.
My Pick: Sexy Star Wars Storm Trooper Costume
9.  HalloweenExpress.com
Halloween Express has physical locations where you can go to shop for your costume needs. Why bother with the rush though when their site has all the same great selections and they offer same day shipping and discounts?
The site has lots of the same selections you'll find on other sites and some I haven't seen. What makes Halloween Express great is that they have videos that show you how to make your costume stand out.
Halloween Express is also giving away $12,000 (ends 31st October 2013) so check out their DIY costume contest if that's your kind of thing.
My Pick: Tom Arma Monkey
10. Partycity.com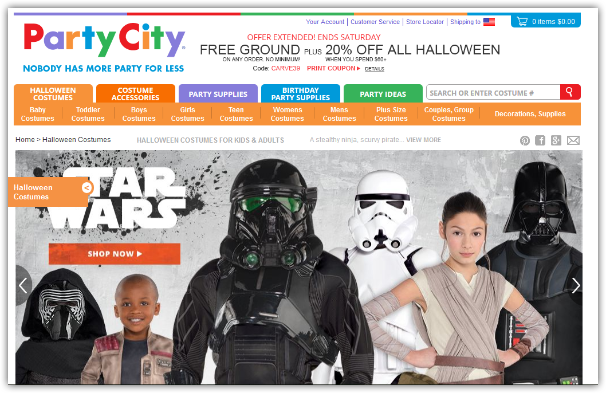 PartyCity.com isn't only for Halloween costumes. As the name suggest, they sell stuff for parties of all kinds, including Halloween parties.
Their Halloween costumes section is perfect though if you want to shop for Halloween costumes. They have a large selection of popular and trending costumes just like all the other sites. You can shop for accessories, decor, props, makeup and all the other stuff that would make a great costume better and host a great Halloween party.
My Pick: Suicide Squad Harley Quinn adult costume
I hope you enjoyed this article and enjoyed shopping at one of these sites. I also hope that you found the perfect costume for your Halloween party.