Ever since The Game came out with the first Documentary in 2005, one thing has remained consistent. He has this thing for name-dropping.
He name-drops his rap peers, pop culture icons, sports personalities, movie stars and even movie characters.
With Documentary 2 out now, I decided to take a close look at all the name-dropping and list every name Game mentions in his lyrics. I also give a brief comment on what the lyric might mean or how I feel, as a listener, about the name-drop.
Here are the 17 songs on the album (omitting the intro and the Uncle skit) in order along with each name-drop
On Me feat. Kendrick Lamar
1. Jay Leno
Lyric: "trap late night, Jay Leno them"
Info: Reference to late night talk show host Jay Leno and how he wins in the ratings.
2. Dr. Dre
Lyric: "Ain't no gimmicks round here, this Compton, me, Doc and Kendrick"
Info: The first of many shout-outs to Dr. Dre on the album. The contributions that just these three alone has made to their city needs to be taken seriously.
3. Andre Iguodala
Lyric: "16 Impalas, they bounce like they Iguodala"
Info: Comparing his Impalas hydraulic action to a basketballer makes sense. Iguodala plays for Golden State Warriors.
4. Erykah Badu
Lyric: "Slide through with the Erykah Badu"
Info: The beat for this song samples Erykah Badu's 1997 hit song On & On.
5. French Montana
Lyric: "So OG they call me Tony Montana, no French, my red bandana legit"
Info: Sounds like shade to me. Game compares himself with Scarface who wore a red bandana while in the refugee camp. He's nothing like that other Montana (the rapper).
Step Up feat. Dej Loaf & Sha Sha
1. Mystikal
Lyric: "Casket closed, air tight like Mystikal's cornrows"
Info: Mystikal once had some tight cornrows back in his early days.
2. Iggy Azalea
Lyrics: "I kicks in doors when your rap bars is Iggy"
Info: Soft ass rap bars as fancy as Iggy Azalea's only serves to infuriate The Game.
3. Jimmy Henchmen
Lyrics: "Phillipe's with my henchmen, nigga, word to Jimmy"
Info: Shoutout to Jimmy Henchmen, who once managed Game back when they both had beef with 50 cent.
4. Plies
Lyrics: "Ain't too many real niggas in this here rap shit/ The industry soft when Plies getting slammed and shit"
Info: Plies once got beat up while performing. That's soft.
5. Floyd Mayweather
Lyrics: "I feel like Mayweather in May weather"
Info: The boxer, "Money" Mayweather gets a shout out.
6. Karreuche Tran
Lyrics: "Your girl tryna do me, hoochie, groupie/ She tryna catch up on a Gucci, baby, no, I'm out like Karrueche"
Info: Chris Brown's on and off girlfriend finally left. She ain't having it like Game to the groupies.
Don't Trip feat. Ice Cube, Dr. Dre & will.i.am
1. Toni! Toni! Toné!
Lyrics: "I make it rain like Toni! Toni! Toné!
Info: Reference to their song "It Never Rains (In Southern California)

2. N.W.A.
Lyrics: "Yeah, I grew up to N.W.A. nigga"Info: Game grew up in Compton, the hometown of early rap group N.W.A. which included Dr. Dre and Ice Cube (two features on this song.
3. King Frog and Big Face
Lyrics: "King Frog and Big Face had my back on Elm"
Info: Don't know who they are but I'm guessing two of Games fellow gang-members who had his back.
Dr. Dre name drops each of the N.W.A. members including himself during his verse.
Standing on Ferraris feat. Diddy
1. Peyton Manning
Lyrics: "Straight away in the Wraith, that's a Peyton Manning spiral"
Info: Rims spinning like a pass from NFL quarter-back Peyton Manning.
2. Kanye West
Lyrics: "Yeezus, that's my Nike town rival"
Info: Drops Kanye's name here as Yeezus, a reference to 'Ye's 6th album. They both love Nikes (Air Max 95s, Red Octobers etc)
3. Craig Mack
Lyrics: "All my shit bump like Craig Mack face"
Info: Funny lyric. Craig Mack's face used to look messed up. What was that? Acne?
4. Rick Rubin
Lyrics: "Beard so long, I'm feeling like Rick Rubin"
Info: Game's growing on of them Rick Ross beards but he's feeling more like Rick Rubin who has a much longer beard like Gandalf.
5. Jay Z
Lyrics: "God bless the nigga with more swag than Jigga"
Info: Yeah, the rapper who claims to have invented swag. Who could have more swag than him?
6. Trey Songz
Lyrics: "More hoes than Trigga, Trigga know, that's my nigga though"
Info: Game has more hoes than an r&B dude. Watch out.
7. Ric Flair
Lyrics: "Ric Flair Phantom"
Info:  Rap Genius contributors say this means it's an all-white Phantom. What's that got to do with the wrestler?
8. R. Kelly
Lyrics: "Spit on models, R. Kelly, piss on the centerfold"
Info: R. Kelly style. Video?
9. Dr. Dre
Lyrics: "Ever since Doc showed me a billion in a envelope"
Info: That Apple money. Second of many Dr. Dre name-drops on the album.
10. Jimmy Iovine
Lyrics: "Love Jimmy, fock Interscope"
Info: Game got respect for the Interscope founder but couldn't stand the label politics so he left and started his own label.
11. Khloe Kardashian
Lyrics: "Ridin' round in somethin' French; Khloe Kardash'"
Info: French Montana (again) used to date this Kardashian girl.
Dollar and a Dream feat. Ab-Soul
1. Kanye West
Lyrics: "We did it for the west, mutherfocker, like Kanye"
Info: Kanye West's second shout out.
2. Andre 3000
Lyrics: "Got three thousand stacks, I ain't talking bout Andre"
Info: Andre 3000 often called Three Stacks.
3. Lupe Fiasco
Lyrics: "See I stayed the same, ain't go weird like Lupe"
Info: The Chicago rapper who spit on Kanye's Touch the Sky and dropped a classic debut lost me as a fan after than. Weird, yes.
4. 2Pac
Lyrics: "I was the little nigga Pac was talking to when he said "keep your head up".
Info: This the first of several mentions of Pac on the album.
5. 50 Cent
Lyrics: "Move the yay or kiss the sky, for having dreams that 50 died"
Info: Surprisingly the first time he mentions 50 on the album.
6. Mary J Blige
Lyrics: "Eulogy by Mary Blige"
Info: Imagining his funeral?
7. Kendrick Lamar
Lyrics: "Went from underdog to watching Top Dawg and Kendrick rise"
Info: Fellow Compton rapper and album feature gets a shoutout.
8. Big Pun
Lyrics: "They got me battling ghost cause I'm the illest one alive, That's word to Pac, Pun, Biggie, why I stand as my city"
Info: One of the holy trinity of deceased rappers often revered as the greatest. Pac gets a shout out again.
9. The Notorious B.I.G.
Lyrics: "They got me battling ghost cause I'm the illest one alive, That's word to Pac, Pun, Biggie, why I stand as my city"
Info: Another of the holy trinity of deceased rappers often revered as the greatest.
10. Dr. Dre
Lyrics: "Lived up to expectations, Dre took me first in the draft"
Info: When you get a cosign from someone like Dre, failure is not an option.
Ab-Soul shouts out Rockett and Bishop Lamont, two other west coast rappers.
Made in America feat. MarcusBlack
1. Rich Porter
Lyrics: "I had a dream last night, I was Rich Porter"
Info: The Game had a dream about being a made man just like Harlem drug dealer Rich Porter.
2. Kim Porter
Lyrics: "Then I had a dream I had a bitch like Kim Porter"
Info: Puff's baby mother is fine. True that!
3. Steph Curry
Lyrics: "Change my life like Steph Curry in the 4th quarter"
Info: Game makes a lot of references to the Golden State Warriors. First of three Steph Curry name-drops on the album.
4. Michael Jordan
Lyrics: "What if you drove by a playground and witness Michael Jordan taking off for his first dunk"
Info: I would hope that I have my phone with me so I could YouTube it.
5. Raekwon
Lyrics: "That's the type of shit I'm made of/ 14 karat gold, Raekwon first album"
Info: Comparing himself to 'Only Made 4 Cuban Linx" – one of the best hip hop albums ever made.
6. Dr. Dre
Lyrics: "Nuthin' like a G thang like when Dre first met Calvin"
Info: Perfection.
7. Snoop Dogg
Lyrics: "Nuthin' like a G thang like when Dre first met Calvin"
Info: Snoop Dogg by his real name. Also see above.
8. Nas
Lyrics: "Wherever Nas is in the world he gon' fock with this"
Info: I believe that too.
9. Eazy-E
Lyrics: "I used to wanna be Eazy"
Info: Someone from your city make it, sure you gonna want to be (like) them.
10. 2Pac
Lyrics: "I used to with that I was 2Pac"
Info: Secretly wants to be the most respected and followed rapper worldwide. Has it's drawbacks though.
11. Mac Dre
Lyrics: "I just seen Mac Dre bruh and the Jacka/ Is we up in the Bay bruh"
Info: Wow, that's some good weed. R.I.P.
12. The Jacka
Info: See above.
13. JT the Bigga Figga
Lyrics: "I went from JT the Bigga Figga to Biggie"
Info: Back when nobody knew The Game, JT the Bigga Figga gave him his first start. I got the Untold Story CD/DVD.
14. The Notorious B.I.G.
Lyrics: "I went from JT the Bigga Figga to Biggie"
Info: Biggie is a metaphor for unthinkable fame and respect.
15. 50 Cent
Lyrics: "We all make mistakes look what happened to me and 50"
Info: We know Game's history with 50 so this name-drop is inevitable.
Jimmy Iovine gets a mention on the intro by Marcus Black.
Hashtag feat. Jelly Roll
Not many name-drops in this one from The Game. Jelly Roll mentions The Beatles and Ray Charles in his first verse, one name-drop more than The Game on this song.
1. Luniz
Lyrics: "Bumpin' Luniz, watching Goonies, getting head on my mama couch"
Info: He bumpin' 'I Got 5 On it' which he referenced in the previous line.
Circles feat. Eric Bellinger, Q-Tip and Sha Sha
1. Kanye West
Lyrics: "Parked my shit at Ye house and hopped in the Uber"
Info: When you lying you always call your friends names.
2. Rihanna
Lyrics: "You wanted to see Rihanna I put you and your friends at the concert"
Info: Monster Tour? Anti- Tour? Game got you (and your friends).
Dedicated feat. Future & Sonyae
1. Nicki Minaj
Lyrics: "We was Nicki and Meek a week ago"
Info: Game compares his relationship to Nicki and Meek Mill.
2. Meek Millz
Info: See above.
3. BG, Turk, Lil Wayne (Hot Boys)
Lyrics: "Put the flame on a nigga, take chains from a nigga/ that will go BG, Turk and Wayne on a nigga"
Info: No Juve?
Bitch, You Ain't Shit
1. Joseline
Lyrics: "Yellin' at her kids while Joseline and Stevie be arguing"
Info: "Shut up kids! I'm watching Love and Hip Hop over here."
2. Stevie J
Info: See above.
3. Drake
Lyrics: "She blocked from Drizzy's page now she all on my dick"
Info: '100' collaborator gets a name-drop.
Summertime feat. Jelly Roll
1. Missy Elliot
Lyrics: "Pull up on the block in that old Missy Hummer"
Info: Where's Missy at though? Remember that Hummer from Supa Dupa Fly?
2. 2Pac
Lyrics: "Hopped out with my bandana tied around my head like 2Pac"
Info: Pac's signature headwear was bandanas. Likely a red one, like Scarface.
3. The Notorious B.I.G.
Lyrics: "Westside nigga, never had a problem banging BIG"
Info: After all it's not 1996 anymore. Pac and BIG get a lot of shouts on the album.
4. Uncle Greg
Lyrics: "My Uncle Greg whipped it all the time"
Info: Along with Games dad and brother, uncle used to cook crack.
5. Michael Jordan
Lyrics: "On my way to school in that Michael Jordan jersey"
Info: The red one with the 23 on the back. Lost count on all the basketball references.
Mula feat. Kanye West
1. Alonzo Mourning
Lyrics: "Bail long as Alonzo Mourning"
Info: Basketball reference #? Alonzo's a tall dude – he must have done something serious.
2. 50 Cent
Lyrics: "Documentary 2, no 50 keep the change hoe"
Info: The first Documentary had a lot of 50. Not this time. Maybe never.
3. LL Cool J
Lyrics: "I just got cooler than LL Cool J"
Info: LL gets a name drop.
Kanye mentions Eazy E by his government name.
The Documentary 2
1. DJ Premier
Lyrics: "Premo, Doc Dre, still holding it down"
Info: Tell them who produced the song.
2. Dr. Dre
Lyrics: "Premo, Doc Dre, still holding it down"
Info: No surprise here. Dre gets mentioned on nearly every song.
3. Mc Ren
Lyrics: "Make it look easy, my pen been on Ren"
Info: Game wrote a lot of stuff since the first Documentary. Ren used to write a lot of N.W.A verses.
4. Future
Lyrics: "…bumpin Future"
Info: Must be that Dirty Sprites 2.
5. Klay Thompson
Lyrics: "So I must be Klay with the .38, Thompson with the Thompson"
Info: Another one for Golden State Warriors. Slick line here comparing Klay's shooting on the court to Game's shooting.
6. Magic Johnson
Lyrics: "I ain't never had shit, I grew up like Magic Johnson"
Info: They both came from nothing. Basketball reference again.
7. Suge Knight
Lyrics: "Suge wouldn't listen"
Info: Probably a good thing.
8. Irv Gotti
Lyrics: "Irv wouldn't listen"
Info: Ja Rule feat. The Game. Game and 50 were destined to be enemies.
9. Diddy
Lyrics: "So I ran around with Diddy, Aftermath in the Mission"
Info: Smart move.
10. Bruce Lee
Lyrics: "Still hop in the freestyle, kick it like two Bruce Lees"
Info: That has to be real dope. One Bruce Lee is dope enough.
11. Lauryn Hill
Lyrics: "Foreign on the hill like it's Lauryn"
Info: Missy Elliot who was name-dropped on a previous song once used the line "I sit on hills like Lauryn"
12. The Fugees
Lyrics: "Smoking la la like the Fugees"
Info: Lauryn Hill. Fugees. Ooh la la la!
13. Chris Brown
Lyrics: "Prada or Gucci, poppin' Cris, Rihanna, Karrueche"
Info: Not really Chris but a bottle of champagne.
14. Rihanna
Lyrics: "Prada or Gucci, poppin' Cris, Rihanna, Karrueche"
Info: Another Rihanna name-drop. Turns the champagne reference into a Chris Brown name-drop.
15. Karrueche
Info: See above. Another Karrueche name-drop.
16. Proof
Lyrics: "Gimme Proof back and 2Pac"
Info: R.I.P. And BIG too. Pun. Big L and Sean Price.
17. 2Pac
Lyrics: "Gimme Proof back and 2Pac"
Info: If I could only choose one to come back it would be Pac.
18. Wu-Tang Clan
Lyrics: "Bump the Wu in Phantoms"
Info: Need to do another article on all the music Game is bumping on The Documentary 2. See – Luniz and Future and probably more to come.
19. Ja Rule
Lyrics: "I only respect Ja Rule and Hammer"
Info: Wait! What?
20. MC Hammer
Lyrics: "I only respect Ja Rule and Hammer"
Info: Sarcasm?
21. Eminem
Lyrics: "Maybe the old Em, I'm slim and I'm shady"
Info: I can believe this one. Old Eminem gets my respect too. So was he kidding about Rule and Hammer?
22. Rakim
Lyrics: "Maybe the old him or Rakim"
Info: Rakim gets a name-drop. Game's saying he respects Rakim.
23. Kendrick Lamar
Lyrics: "I been a Top Dawg, I know Dot"
Info: Kendrick by his old moniker, K. Dot who is on Top Dawg Entertainment and fellow Compton emcee.
New York, New York
1. Louis Farrakhan
Lyrics: "Is it Farrakhan, Buddha or Christ today?"
Info: Some people follow Buddha, some follow Christ. Farrakhan though?
2. Rick Ross
Lyrics: "They lock Rick Ross up and they ain't give him no bail / But a cracker shoot a whole church up and it's oh well"
Info: Shows how unfair or even racist the justice system is. Ross got locked up for alleged kidnapping and denied bail.
3. Steph Curry
Lyrics: "No hesitation like Steph, shoot it right in your face"
Info: Another Golden State Warrior name dropped. Game doesn't hesitate the way Steph plays basketball.
4. Magic Johnson
Lyrics: "Some shit never made sense like Magic and AIDS"
Info: How Magic lived so long with AIDS while others died out is puzzling for anyone.
5. Barack Obama
Lyrics: "Obama must be in the city, it's traffic today"
Info: L.A. traffic is famous for always being jammed up, even more so when the president is visiting.
6. Cassius Clay
Lyrics: "We got these niggas boxed in like Cassius Clay"
Info: Boxed in? Cassius Clay (Mohammed Ali)? Get it?
7. Earl Hayes
Lyrics: "Good morning L.A. My nigga Hayes blew him and his wife away."
Info: Rapper Earl Hayes shot and killed his wife Stephanie Moseley (of VH1's Hit the Floor) before shooting himself in December 2014.
8. Stephanie Moseley
Lyrics: "This song is dedicated to Stephanie Moseley…"
Info: The outro of the song eulogizes Stephanie Moseley (see above) who was gunned down by her husband Earl Hayes
100 feat. Drake
1. The Notorious B.I.G.
Lyrics: "Niggas called me set you up/ Wanted me to come and wet you up / Cause you a out of town nigga like Biggie"
Info: B.I.G., who was from New York, got gunned down in L.A. in 1997. Also mentioned later on in the song with 2Pac.
2. Diddy
Lyrics: "Heard about the shit with Diddy"
Info: He's talking about Drake's fight with Diddy.
3. Noah '40' Shebib
Lyrics: "I got a vest for 40…"
Info: Game's riding for any OVO affiliated member.
4. Hush
Lyrics: "…a vest for Hush"
Info: From the previous line. Hush is an OVO affiliate.
5. Lil Wayne
Lyrics: "Catch you off guard, like the Lil Wayne and Baby shit"
Info: Yeah, that kiss thing with Wayne and Baby.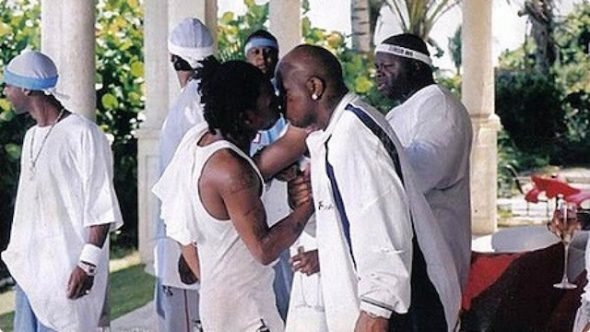 6. Baby
Info: See above.
7. 4 Cent
Lyrics: "Miss 4 Cent that's my real nigga"
Info: One of Game's close homies who was killed in gang violence.
8. Lil Snupe
Lyrics: "He was Lil Snupe, I was Meek Mill"
Info: Compares his relationship with 4 Cent to that of Meek Mill and his protoge Lil Snupe who was also killed.
9. Meek Mill
Info: See above
10. Frogg
Lyrics: "Screamin' Frogg name at the clouds"
Info: Frogg was a Compton rapper who got shot and killed at a liquor store.
11. 2Pac
Lyrics: "Guess they too busy with 2Pac and Biggie though"
Info: Pac's 5th mention on the album so far. Imagines his homies in heaven with the greats.
12. Suge Knight
Lyrics: "That was on Suge's watch, I'll take Suge's watch"
Info: Possibly blaming Suge for the death of  Pac and B.I.G.
13. Pimp C
Lyrics: "Don't come to my city/ Not even to H-Town / So underground that I gotta be a trill nigga… / That's word to Pimp C"
Info: Name-dropping another deceased rapper, one half of UGK (Underground Kingz) – Pimp C.
14. J. Prince
Lyrics: "J. Prince is my real nigga"
Info: Houston's Rap-A-Lot CEO gets a shout out.
15. Jimmy Henchman
Lyrics: "Shit was so simple when Henchman was out"
Info: Henchman was sentenced to life in prison in 2013.
16. Bleu DaVinci
Lyrics: "So happy when Bleu DaVinci got out"
Info: Game's friend served 4 years in prison and was recently released.
Just Another Day
1. Eazy E
Lyrics: "Just the other day I saw a hologram of Eazy around my way"
Info: After the 2Pac hologram in 2012 at Coachella, Eazy got a hologram too. Eazy is also mentioned on the hook.
2. Allen Iverson
Lyrics: "I know I said I wouldn't but sometimes a nigga gotta crossover like A.I."
Info: Iverson's name is usually associated with the crossover.
3. Steph Curry
Lyrics: " I cross over like Steph Curry…"
Info: Golden State Warriors shout outs are all over the album. Curry has a great crossover.
4. Chris Paul
Lyrics: "…crossover like CP"
Info: Clippers basketballer with a great crossover.
5. N.W.A.
Lyrics: "This NWA ha, smokin' that Bombay, we stay high"
Info: Listening to NWA and smoking weed.
6. Dr. Dre
Lyrics: "I think about the day I first met Dre"
Info: Dr. Dre signed Game to Aftermath.
7. De La Soul
Lyrics: "I stayed on some gangsta shit but still bumped De La"
Info: De La Soul isn't gangsta music but whatever.
8. Faith Evans
Lyrics: "I feel like I ain't need your love, recorded "Hitting Switches" then I recorded the shit with Faith"
Info: Reference to "Don't Need Your Love" featuring Faith Evans from The Documentary.
9. Mary J. Blige
Lyrics: "I did the BET Awards with Mary J."
Info: Game performed "Hate It or Love It" and "Dreams" with Mary on BET Awards in 2005.
10. Nate Dogg
Lyrics: "Had a dream that I did some G shit with Nate Dogg"
Info: R.I.P. Nate.
11. Amber Rose
Lyrics: "Shout to my niggas up in Wayside / Take these Amber Rose pictures, send 'em up the way"
Info: Amber Rose pics for his homies doing time in Wayside Prison.
12. Suge Knight
Lyrics: "Feeling like the old Suge, me and my city both good"
Info: This dude again. Back when Death Row ruled, LA was cool with Suge but not now.
LA feat. Fergie, Snoop Dogg & will.i.am
1. Jennifer Lopez
Lyrics: "I said the way I spit, niggas'll think I blew J-Lo back out"
Info: J-Lo gets a name-drop on the last song.
2. Dr. Dre
Lyrics: "I told Dre to put out Detox, or I'mma do it"
Info: Last name drop of the album. How fitting that it would be Dr. Dre who has been mentioned numerous times on the album.
There you have it. All the name-drops on The Documentary 2 album.
Don't look for an article on The Documentary 2.5. We all know this is The Game's signature so just listen and you might hear your name – or not.